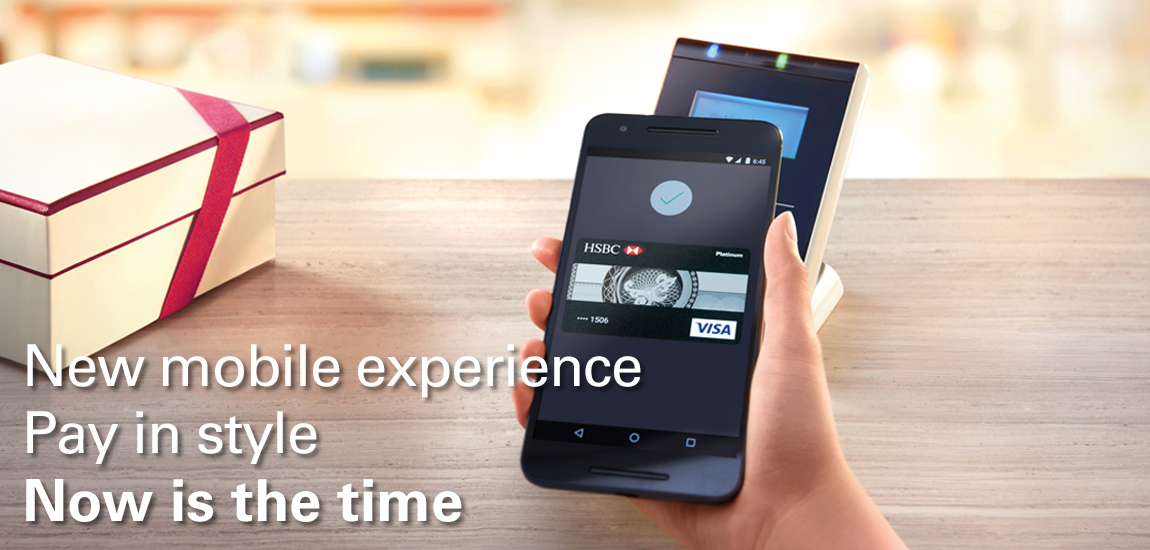 HSBC has taken another giant step towards completing your mobile payment world. With the introduction of Android PayTM, customers with smartphones running different operating systems can now enjoy the full benefits of mobile payment anywhere they go. Now, everyone is a mobile payer.
Add your HSBC Credit Card to Android Pay on your phone now and be among the first to enjoy a simple, secure way to pay.
Add HSBC Credit Card to Android Pay
The first card added to Android Pay will be your default card. For payments, your default card will automatically be debited.
To ensure you can enjoy the fabulous offers throughout the year and the convenience of paying with HSBC Credit Cards, please set your HSBC Credit Card as the default card.
Go to Google Play Store to download the Android Pay app.
After downloading the Android Pay app, open it and follow the simple steps below to add your card:
1. Tap the "Add card" at the bottom

2. Take a picture of the front side of your card

3. Input the CVC (Printed on the back of your credit card)

4. Confirm your card details and your personal information (The personal information will not be used to update the bank's record)

5. Receive an SMS and enter the one-time verification code

6. Done
Set up Android Pay now
Go to the Google Play Store to download the Android Pay app.

Android Pay works with most NFC capable Android™ devices running Android 4.4 (KitKat™) or higher.
Android Pay, Google Play and the Google Play logo are trademarks of Google Inc. The Android Robot is reproduced or modified from work created and shared by Google and used according to the terms described in the Creative Commons 3.0 Attribution License.
To borrow or not to borrow? Borrow only if you can repay!