HSBC Credit Card is giving your daily life a boost with exclusive rewards from "MoneyBack", FORTRESS, PARKnSHOP and Watsons! From 1 March to 30 April 2021, you can enjoy the below offers if you successfully connect your MoneyBack App account with HSBC Reward+:
Double conversion rate: Redeem RewardCash for MoneyBack Points via the HSBC Reward+ app to enjoy a double conversion rate, i.e. $1 RewardCash = 100 MoneyBack Points. You can also enjoy up to 66% off selected items at the physical outlets of PARKnSHOP or Watsons on the next day of conversion with the presence of your MoneyBack App
Welcome Offer: Join as a new member with the MoneyBack App and make any transaction with your eligible credit card at the participating merchants during the promotional period to receive 1,000 MoneyBack Points rewards
Multiple MoneyBack Points: Make an eligible transaction at FORTRESS, PARKnSHOP Supermarket and Watsons in parallel to enjoy a special MoneyBack Points earn rate of 20X. If you make purchases at two of the above merchants, you can enjoy a 10X MoneyBack Points earn rate.
 
Spending amount
Basic Conversion Rate
20x Points reward
10x Points reward
FORTRESS
Every HK$10 spending
1 MoneyBack Point
20 MoneyBack Points
10 MoneyBack Points
PARKnSHOP
Every HK$5 spending
Watsons


Want to earn more RewardCash and MoneyBack Points? Grab some merchant rewards now and upgrade your life!
How to connect your MoneyBack App account to HSBC Reward+? click here
Download the MoneyBack App now to enjoy the offers

HSBC credit card, the best credit card in town*. The one that has it all.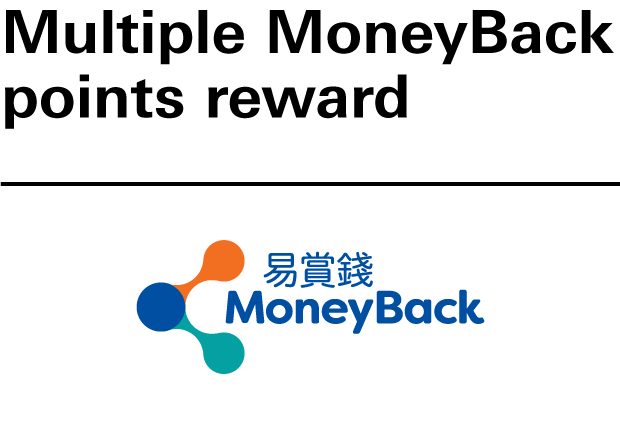 From 1 March to 30 April 2021, spend with your HSBC Credit Card at PARKnSHOP and Watsons to enjoy up to HK$100 worth of e-Vouchers on the MoneyBack App
Make an eligible single net transaction of HK$500 of above and receive an e-Voucher on the MoneyBack App worth HK$25

Please read the following remarks.
* The above statements are based on the perception rating results from the Kantar Pulse Study conducted between October 2019 and December 2019 that covered a population representative sample of 440 credit card holders in Hong Kong.
Each MoneyBack App account can receive a maximum of two e-Vouchers at PARKnSHOP Supermarket and Watsons respectively, a total of four e-Vouchers can be received during the entire promotional period.
Apple is a trademark of Apple Inc., registered in the U.S. and other countries. App Store is a service mark of Apple Inc.
Google Play™ is a trademark of Google LLC.
Click here for terms and conditions
Visit www.hsbc.com.hk/creditcard. Send us a message and get connected instantly via the Live Chat tab.
Whatsapp us at +852 2233 3000
To borrow or not to borrow? Borrow only if you can repay!
Reference number: Y20-U8-CAMH33