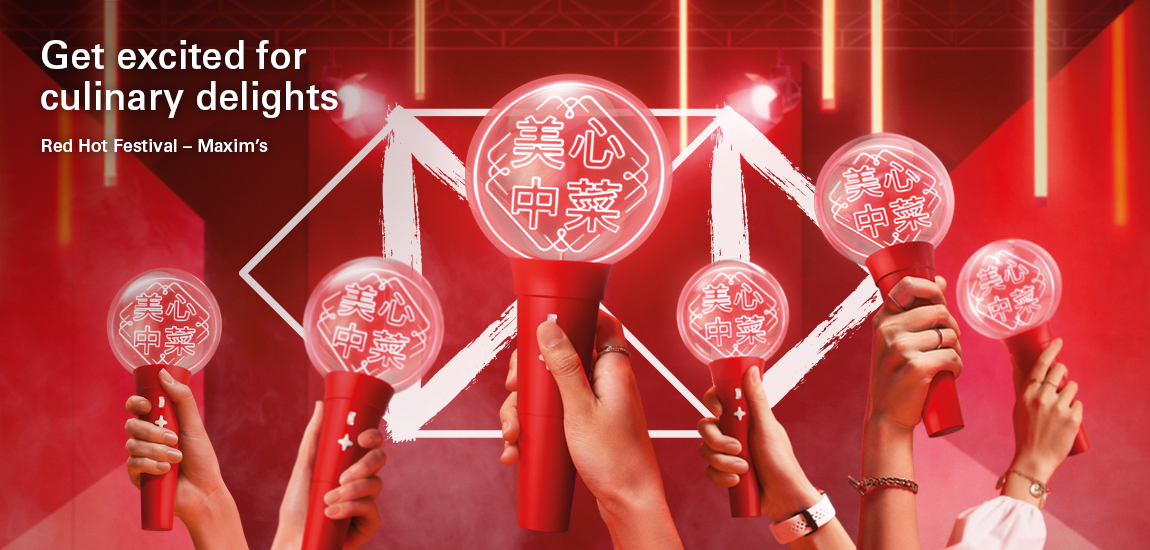 With HSBC credit cards, you can enjoy amazing offers this summer. Have a taste of the culinary delights to make the most of the Red Hot Festival!
From 2 July to 30 September 2021, enjoy the following offers at more than 40 designated Maxim's Chinese Cuisine dining outlets with your HSBC credit card:
Offer 1: Get up to 40% off at designated Maxim's Chinese Cuisine dining outlets
Offer 2: Receive a HK$300 Maxim's Chinese Cuisine Dinner Voucher when you spend HK$600 or above in a single transaction on dinner for dine-in or self pick-up takeaway orders from 7 July to 31 July 2021
Soyed Goose • Abalone Set Menu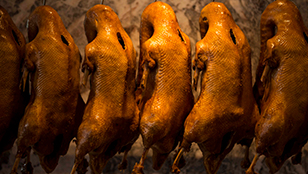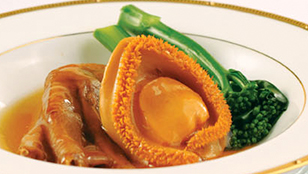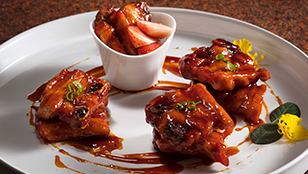 Combination of soyed goose specialty
Sautéed prawns in mayonnaise dressing, salad
Braised spare ribs in plum sauce & Deep-fried cuttlefish rolls
Braised mock shark's fin soup with fish maw & bamboo pith
Braised whole abalone with goose web in oyster sauce
Steamed Sabah garoupa in Chiuchow style
Braised chicken with garlic sauce
Poached kale with conpoy
Fried rice with salted pork & vegetables
Steamed red date pudding
 
Monday to Sunday and public holidays
 
30% off special price
Usual retail price
Dinner menu for 12 persons
HK$2,888

HK$4,188

Dinner menu for 6 persons
HK$1,488

HK$2,188
Promotion outlets: All Chiuchow Garden Restaurant outlets and all Chiuchow Garden outlets
Price for 12 persons include 2 bottles of orange juice or 2 large bottles of beer, tea charge for 12 persons and 10% service charge. Price for 6 persons include 1 bottle of orange juice or 1 large bottle of beer, tea charge for 6 persons and 10% service charge. Pre-meal snacks charge applies.


Promotional period: 2 July to 30 September 2021 (both dates inclusive, except 11 to 12 and 18 to 22 September 2021)

Don't have an HSBC credit card yet? Click here to apply now so you can join the crowd!
HSBC credit card, the best credit card in town*. The one that has it all.
Please read the following remarks.
* The above statements are based on the perception rating results from the Pulse Study conducted by Kantar UK Ltd between July 2020 to December 2020 that covered a population representative sample of 949 credit card holders in Hong Kong.
Offer is only applicable for dinner dine-in consumption.
The maximum number of diners per table and the opening hours of restaurants will be subject to the rules and regulation announced by the Government and the participating merchants.
The distribution period of the Maxim's Chinese Cuisine Dinner Voucher is from 7 July to 31 July 2021. Only one Voucher will be rewarded per transaction. The Maxim's Chinese Cuisine Dinner Voucher can be used at all outlets of Maxim's Chinese Cuisine in Hong Kong (not applicable to Plaza Inn - Jade Garden, Cha Cha Room and Jade Kitchen), and is valid from 8 July to 30 September 2021 (except 20 to 22 September 2021). It is only applicable from Monday to Thursday for dine-in dinners or self pick-up takeaway orders. Only one Voucher can be used each time. It is not applicable to VIP rooms, Maxim's Group product, Maxim's gift coupon, Maxim's cake coupons, cash coupon, discount coupon or other promotional offers, and cannot be used in banquet, private room dinner and festival products. HK$1 will be charged for each plastic box or takeaway bag for takeaway. This offer is only for dine-in consumption in shops or self pick-up takeaway and not applicable to orders from third parties. The Vouchers are available only while stocks last. The Voucher cannot be used to settle the payment, which is made by mobile payment, including Apple Pay, Google Pay™ or Samsung Pay. The use of the Voucher is subject to the terms and conditions stipulated by Maxim's. Please refer to the back of the Voucher or check with Maxim's for details.
All prices, photos and product descriptions are provided/suggested by Maxim's Chinese Cuisine and are for reference only, and we accept no liability for such.
Apple and Apple Pay are trademarks of Apple Inc., registered in the U.S. and other countries. App Store is a service mark of Apple Inc.
Google Pay and Google Play™ are trademarks of Google LLC.
Samsung Pay is a registered trademark of Samsung Electronics Co., Ltd.
Click here for terms and conditions
Call 2748 8033
Visit www.hsbc.com.hk/creditcard
To borrow or not to borrow? Borrow only if you can repay!
Reference number: Y21-U8-CAMH0204