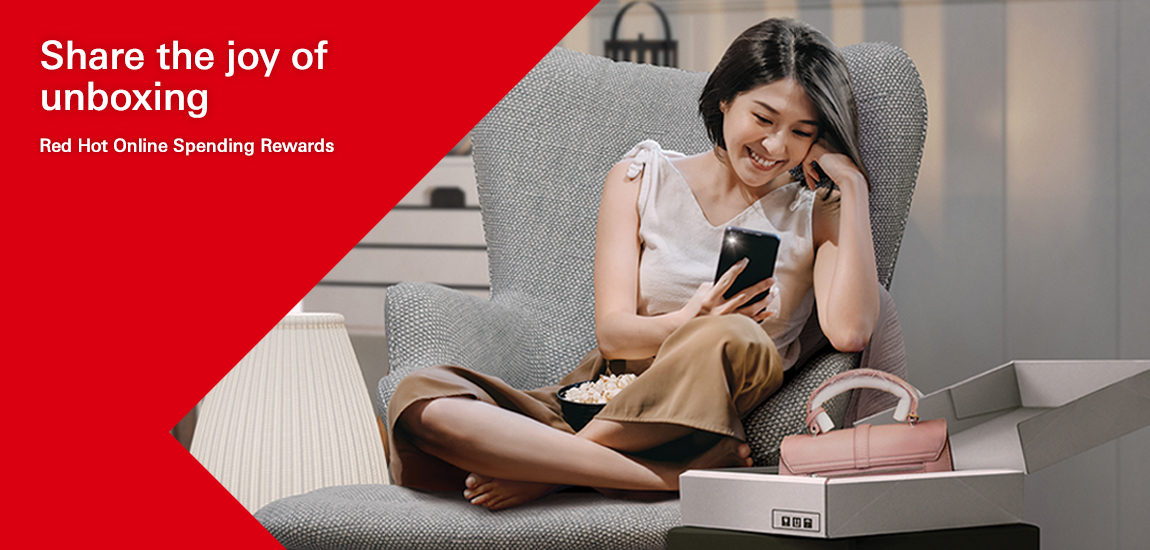 See them all, get them all, and unbox the joy!
From 1 January to 31 December 2022, you can receive 2.4% RewardCash rebate when you spend online with your HSBC credit card.
A single registration will enrol you in all four phases of the promotional period. Accumulate eligible transactions of HK$5,000 or above in each phase, and earn a maximum of $300 RewardCash, which comes to a total of up to $1,200 RewardCash across four phases.
Register via the HSBC Reward+ app now!


HSBC credit card, the best credit card in town*. The one that has it all.
Please read the following remarks.
* The above statements are based on the perception rating results from the Pulse Study conducted by Kantar UK Ltd between July 2020 to December 2020 that covered a population representative sample of 949 credit card holders in Hong Kong.
You can register this promotion via the HSBC Reward+ app or click hereclick here to register.
2.4% RewardCash rebate is equivalent to 6 times RewardCash, which includes the basic 1 time RewardCash plus an extra 5 times RewardCash earned under this promotion. The total maximum amount of extra RewardCash on eligible transactions to be awarded to each cardholder in each phase is $300.
The 4 phase are: Phase 1 - 1 January to 31 March 2022; Phase 2 - 1 April to 30 June 2022; Phase 3 - 1 July to 30 September 2022; Phase 4 - 1 October to 31 December 2022.
You can start receiving the RewardCash rebate on eligible transactions from the phase your registered.
Eligible transactions refer to any online transactions conducted with an eligible credit card during the promotional period.
HSBC EveryMile Credit Card and HSBC Red Credit Card are not eligible for this promotion.

Apple is a trademark of Apple Inc., registered in the U.S. and other countries. App Store is a service mark of Apple Inc.
Google Play is a trademark of Google LLC.
Click here for terms and conditions
Call 2748 8033
Visit www.hsbc.com.hk/creditcard
To borrow or not to borrow? Borrow only if you can repay!
Reference number: Y22-U8-CAMH0301