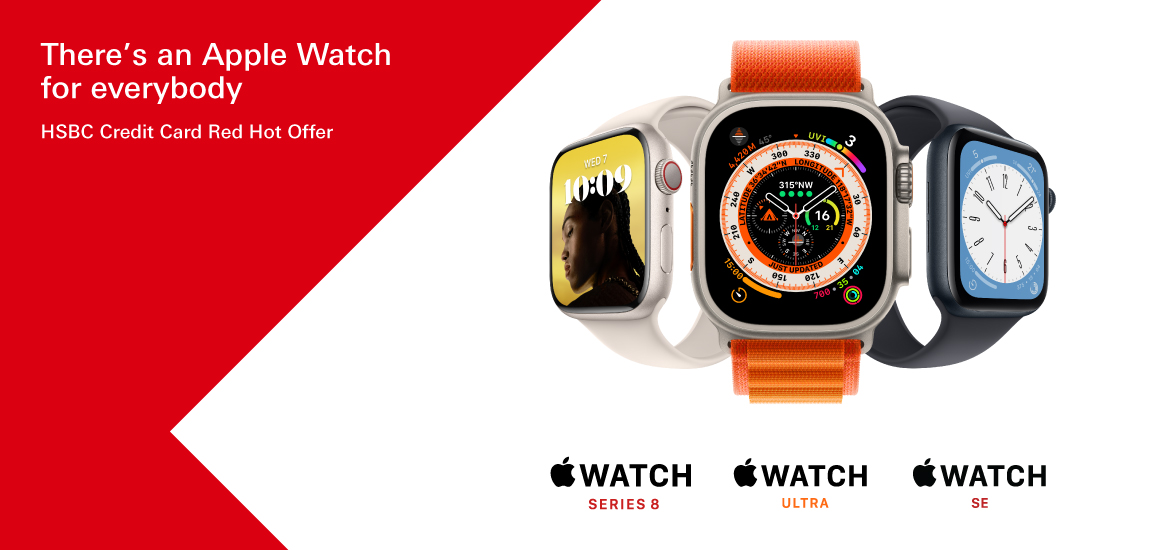 Here's a new payment option and limited time offer brought to you by the HSBC credit card. Just purchase the Apple Watch with your HSBC credit card to pay by the flexible merchant instalment.

Flexible Merchant Instalment

From now on, spend with your HSBC Visa credit card or Mastercard® on designated Apple Watch models at the designated telecom providers, and you pay by this flexible merchant instalment with $0 interest and handling fee, while enjoy lower monthly repayment.

What's more, you can choose between these 2 options after 24 months:

Upgrade to the latest Apple Watch, return the original Apple Watch to the respective telecom provider, and use the "Guaranteed Buy-Back Value" to offset the remaining instalment payment



OR

Keep your Apple Watch and continue to pay the remaining balance by instalment

 

Limited Time Offer - Enjoy a total of up to $300 RewardCash

Interest-free Merchant Instalment Offer for Apple Watch
From now until 28 February 2023, when you make a purchase from the designated Apple Watch models from designated telecom providers with the eligible HSBC credit cards by this flexible interest-free merchant instalment plan, you can enjoy extra RewardCash. Each eligible HSBC credit card may enjoy maximum $200 RewardCash.

An extra $200 RewardCash for purchase of Apple Watch Ultra; Or
An extra $100 RewardCash for purchase of Apple Watch Series 8

Interest-free Merchant Instalment Programme Welcome Offer
From now until 28 February 2023, when you settle a transaction of HK$1,000 or above by Interest-free Merchant Instalment for the first time, you can earn an extra $100 RewardCash.

Designated participating merchants:

HSBC credit card, the best credit card in town*. The one that has it all.
Please read the following remarks.
* The above statements are based on the perception rating results from the Pulse Study conducted by Kantar UK Ltd between July 2020 to December 2020 that covered a population representative sample of 949 credit card holders in Hong Kong.
Interest-free Merchant Instalment is not applicable to HSBC Pulse UnionPay Dual Currency Diamond Credit Card and HSBC UnionPay Dual Currency Card.
"Lower monthly repayment" compares the monthly payment when you purchase an Apple at suggested retail price by 24-month interest-free merchant instalment.
This flexible merchant instalment is only applicable to the purchase of Apple Watch using an Eligible Credit Card under Interest-free Merchant Instalment Plan of more than 24 monthly instalment payments.
Product Return Option, Guaranteed Buy-Back Value and/or phone upgrade is/are provided by designated mobile service providers and subject to their relevant Terms and Conditions. Also, customers are required to contact respective telecom providers for the return of the Apple Watch within the designated period assigned by respective telecom providers. For details, please refer to the website of telecom providers or their frontline.
The product models / color are available while stocks last, and might vary depending on telecom providers.

Apple is a trademark of Apple Inc., registered in the U.S. and other countries. App Store is a service mark of Apple Inc.
Google Play™ is a trademark of Google LLC.
Click here for terms and conditions
Call 2748 8033
Visit www.hsbc.com.hk/creditcard
To borrow or not to borrow? Borrow only if you can repay!
Reference number: Y22-U8-CAMH0533