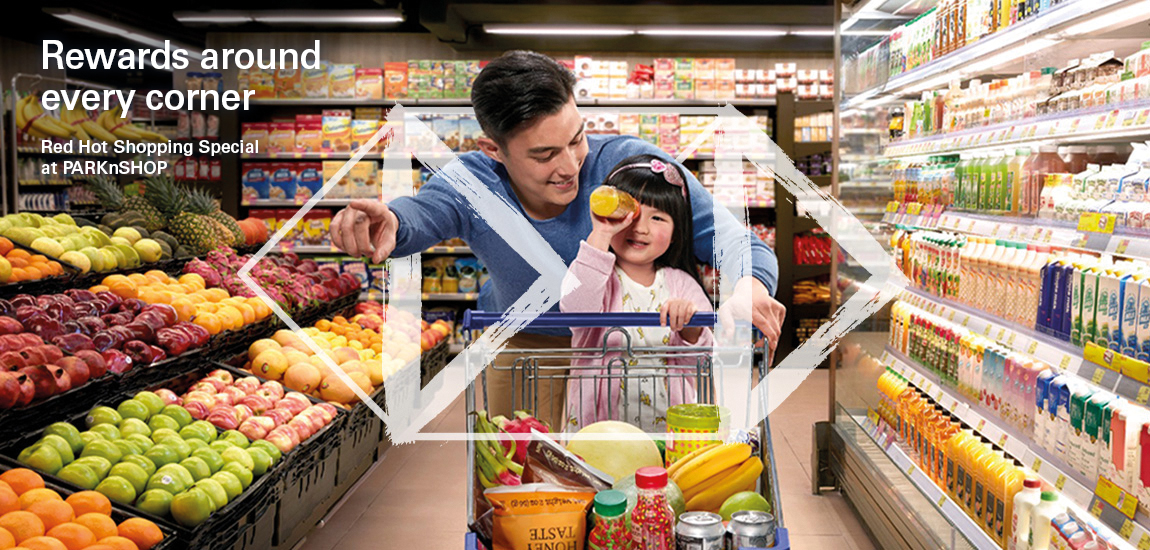 Make your everyday shopping extraordinary. Get fully loaded with groceries whether you're shopping online or at the supermarket. From 3 September to 31 October 2021, enjoy exclusive PARKnSHOP offers when you pay with your HSBC credit card every Friday, Saturday and Sunday:
 
Single net transaction amount
PARKnSHOP cash voucher or PARKnSHOP eShop eVoucher
HSBC UnionPay Dual Currency Credit Card
Other HSBC credit cards
PARKnSHOP physical outlets
HK$500 or above
HK$70
HK$50
PARKnSHOP eShop (

PARKnSHOP.com

) or PARKnSHOP App
HK$1,000 or above

What's more, if you are using the QR Code Payment for the first time from now until 31 December 2021, you can enjoy an extra $100 RewardCash when you make 5 or more eligible transactions using the QR Code Payment function in the HSBC Reward+ App or UnionPay App. Each transaction needs to be HKD/RMB30 or above.
Click here for more details on QR Code Payment.
Participating merchants: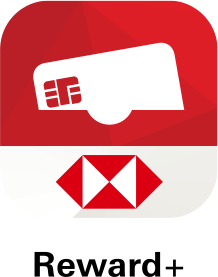 HSBC credit card, the best credit card in town*. The one that has it all.
Please read the following remarks.
* The above statements are based on the perception rating results from the Kantar Pulse Study conducted by Kantar UK Ltd between July 2020 to December 2020 that covered a population representative sample of 949 credit card holders in Hong Kong.
PARKnSHOP physical outlets include any physical outlets of PARKnSHOP, FUSION, TASTE, TASTE X FRESH (applicable to payment made at TASTE checkout counter only), INTERNATIONAL, food le parc, GOURMET, GREAT FOOD HALL, SU-PA-DE-PA (applicable to supermarket only), EXPRESS and PARKnSHOP Frozen Food Store in Hong Kong.
All offers are not applicable to the purchase of gift coupon/eVoucher, stage 1 infant milk formula, tobacco, phone card/prepaid phone card/gift card, mooncake, mooncake coupon, food coupon, PARKnSHOP Food Card, consignment counter transaction, bill payment, Octopus/Alipay value-added service, any redemption promotion and eStamp redemption , bulk/case purchase with single transaction over HK$50,000 or 50 cases, plastic shopping bag charging, delivery service charge and 3 Shop products & services, phone/fax ordering, purchases made at www.greatfoodhall.com, TasteToGo order, 'Click & Collect' service, transactions made via e-wallets, transactions made at self-checkout machine or transactions made at any outlets outside Hong Kong, transactions made at FRESH checkout counter in TASTE X FRESH, or all unposted/cancelled/refunded transactions. PARKnSHOP eShop or PARKnSHOP App offer is also not applicable to the purchase of poon choi, Mid-autumn festival fruit hamper & gift hamper, AquaBlue products, Tru Niagen products, LaoXieZhen products, Watsons & FORTRESS products, WATSONS Water H&A dispenser, home appliances and cookware, Karuizawa products, spirits, Tung Fong Hung products, bird's nest, essence of chicken, abalone, supplier direct delivery products and any other redemption products.
The cash vouchers shall be distributed by the participating merchants at the time of payment. The e-vouchers shall be credited to your PARKnSHOP eShop or PARKnSHOP App accounts directly within 10 days after delivery of order. The cash vouchers and e-vouchers are valid until 30 November 2021 and can only be used in the next purchase.
Terms and conditions apply to QR Code Payment offer.

Apple is a trademark of Apple Inc., registered in the U.S. and other countries. App Store is a service mark of Apple Inc.
Google Play™ is a trademark of Google LLC.
Click here for terms and conditions
Call 2748 8033
Visit www.hsbc.com.hk/creditcard
To borrow or not to borrow? Borrow only if you can repay!
Reference number: Y21-U8-CAMH0512