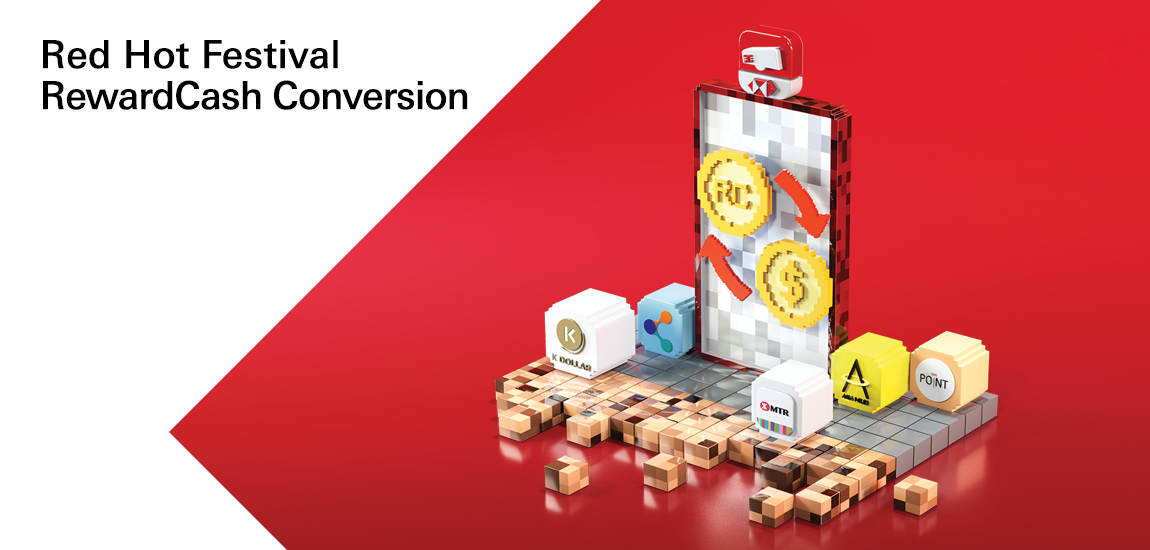 With all the comprehensive rewards offered by the HSBC Credit Card Red Hot Festival, you can earn and burn RewardCash anytime to make your summer more rewarding!
There are so many ways you can earn and burn RewardCash. This year, you can even convert your RewardCash into loyalty points at six of our merchant partners: K Dollar, MTR Points, The Point bonus points, MoneyBack Points, Asia Miles, and Avios. With the HSBC Reward+ app, you can do the conversion anytime, anywhere as you shop, commute, or redeem mileage points.
From 1 July to 31 August 2022, enjoy a series of bonus conversion offers. Connect HSBC Reward+ with the Registered Accounts listed below to receive these offers:
Promotional period
Registered account
Offers
Maximum RewardCash conversion amount
30 June to 31 August 2022
K Dollar Program
$1 RewardCash= 2 K Dollars
$100
1 July to 31 August 2022
MTR Mobile

$1 RewardCash = 450 MTR Points
Register for an MTR Mobile Account for the first time and input the designated referral code "47MAT9" during registration to receive 500 MTR Points and a FREE MTR single ride.

$120
1 July 2022 to 31 August 2022
Asia Miles

Receive 10% bonus miles for RewardCash conversion.
What's more, convert your RewardCash into Asia Miles for a cumulative total of 20,000 basic Asia Miles or more to enjoy a mileage renewal fee waiver on the balance of miles earned before 1 January 2020.

Learn more

.

$2,000
1 July to 31 August 2022
British Airways
Executive Club
Receive a 25% bonus Avios when converting RewardCash into Avios with an HSBC Premier Mastercard® Credit Card and HSBC EveryMile Credit Card.
No upper limit
Try out the function via the HSBC Reward+ app now.
Join us at the SUMMERverse, an HSBC Metaverse game with a massive network of rewards that go all the way from real life to the virtual world in Minecraft. Upon completion of the game, you can stand a chance to win $1,000 RewardCash (10 winners in total)!
Start the game now Start the game now


Don't have an HSBC credit card yet? Click here to apply for designated credit cards to enjoy all the offers in town, and receive a welcome offer!

HSBC credit card, the best credit card in town*. The one that has it all.
Please read the following remarks.
* The above statements are based on the perception rating results from the Pulse Study conducted by Kantar UK Ltd between July 2020 to December 2020 that covered a population representative sample of 949 credit card holders in Hong Kong.
You must connect your respective Registered Account to HSBC Reward+ before making any relevant conversions. You only need to connect once during the promotional period.
You have to log on to your Registered Account in the respective App or website to view your balance. If you do not receive the extra Offers, please contact the Participating Merchants by 30 September 2022 (unless otherwise specified).
A minimum of $40 RewardCash is required for each conversion of Asia Miles and Avios.
Combining the RewardCash from your primary and additional cards is valid only if you transfer the RewardCash to the primary cardholder's Asia Miles account.
Cardholders must register to enjoy the Asia Miles mileage extension offer.
Avios conversion made via the HSBC Reward+ app will be credited to your Avios account within 2 weeks of conversion, while it will take 4 to 6 weeks for other channels. Bonus Avios will be credited to your British Airways Executive Club account together with the basic Avios after conversion.

Not an official Minecraft product. Not approved by or associated with Mojang.
Apple is a trademark of Apple Inc., registered in the U.S. and other countries. App Store is a service mark of Apple Inc.
Google Play™ is a trademark of Google LLC.
Click here for terms and conditions
Call 2748 8033
Visit www.hsbc.com.hk/creditcard
To borrow or not to borrow? Borrow only if you can repay!
Reference number: Y22-U8-CAMH0705A