Embrace the hottest offers this summer, HSBC Credit Card Red Hot Festival
With HSBC credit cards, you can enjoy amazing offers this summer. Eat, shop and play as much as you want to make the most of the Red Hot Festival! This year, we've recruited the hottest group in town, ERROR, to fire it up. Join them as they embrace the hottest offers in town and lead you to earn as many rewards as you can!  
Keep an eye out for more exciting surprises throughout the Red Hot Festival so you can give us your full support!

From 9 July to 12 September 2021, spend with your HSBC credit card to enjoy 'Red Hot Festival – Local Spending Offer' and receive up to an extra $1,000 RewardCash.
• Offer 1: Receive an extra 5% RewardCash rebate when you accumulate eligible transactions of HK$8,000 or above. The offer extends up to $600 RewardCash
• Offer 2: Receive an extra $400 RewardCash when you accumulate eligible transactions of HK$32,000 or above

Register via the HSBC Reward+ App now.
Don't have an HSBC credit card yet? Click here to apply now so you can join the crowd!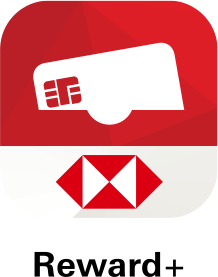 HSBC credit card, the best credit card in town*. The one that has it all.
Please read the following remarks.
* The above statements are based on the perception rating results from the Pulse Study conducted by Kantar UK Ltd between July 2020 to December 2020 that covered a population representative sample of 949 credit card holders in Hong Kong.
You can register this promotion via the HSBC Reward+ app or

click here

click here

to register.
Eligible Transactions are purchases made in Hong Kong dollars with an Eligible Credit Card with a minimum Net Spending Amount of HK$500 each at local merchants in Hong Kong during the promotional period. Eligible Transactions do not include: transactions made at any shops of Broadway Photo Supply Ltd in Hong Kong and Broadway's online shop, any outlets of Mannings, Mannings Plus and Mannings Baby, Mannings Online Store and GNC Stores in Hong Kong between 9 July and 31 August 2021.
HSBC Red Credit Card is not applicable to this promotion.
Apple is a trademark of Apple Inc., registered in the U.S. and other countries. App Store is a service mark of Apple Inc.
Google Play™ is a trademark of Google LLC.
Click here for terms and conditions
Call 2748 8033
Visit www.hsbc.com.hk/creditcard
To borrow or not to borrow? Borrow only if you can repay!
Reference number: Y21-U8-CAMH0102