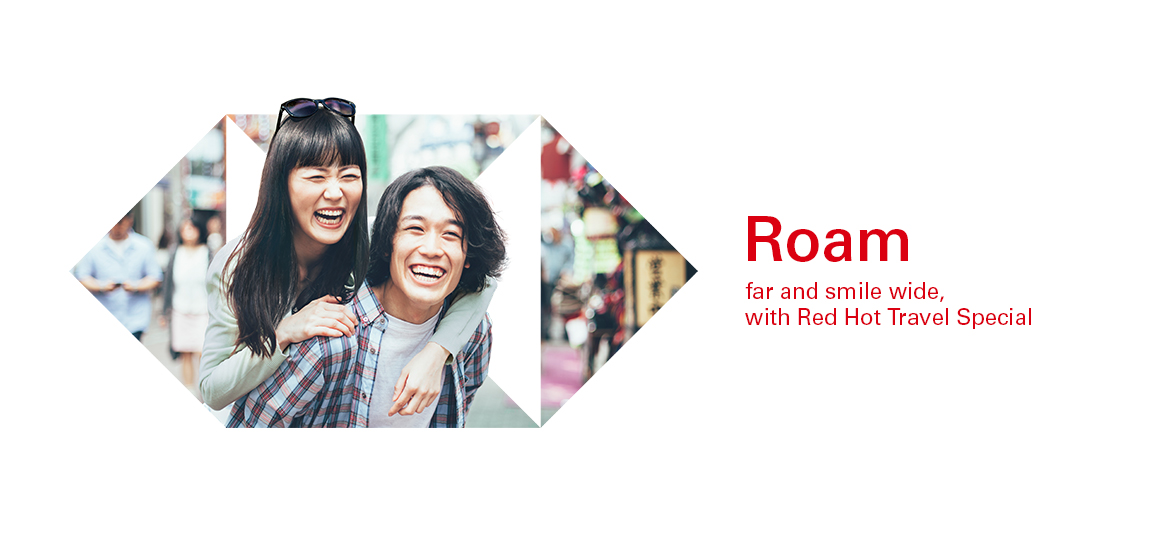 HSBC Credit Card, the best credit card in town*. The one that has it all. You can enjoy the following travel offers with designated HSBC credit cards.

Korean Air
Promotion Period: From now until 24 Feb 2019
15% discount on First class or Business class tickets
10% discount on Economy class tickets
Please read the following remarks.
Booking must be made through Korean Air official website (

www.koreanair.com

) or Korean Air Mobile App by using the promotional code 'HSBCHK15' (in respect of the 15% discount) or 'HSBCHK10' (in respect of the 10% discount) at the time of booking.
The offers are applicable for outbound travel from Hong Kong to Korea, North America, Canada and Japan from 9 January to 30 June 2019 and inbound travel from designated destinations to Hong Kong on or before 31 December 2019.

Booking.com
Promotional Period: 16 Jan – 28 Feb 2019
Up to a 10% cash rebate on designated hotel accommodation bookings
Please read the following remarks.
Booking must be made through

www.booking.com/hsbchk

. Cardholders must login to their Booking.com account and ticked the consent box on the reservation page.
Stay period must be between 16 January and 30 April 2019.
The corresponding rebate will be automatically credited to the cardholders' eligible credit card account within 65 calendar days upon completion of hotel stays.
Airport Limousine Service
Promotional period: 1 January to 30 June 2019
Enjoy a one-way airport limousine service for just HK$250 to or from any of the following designated airports upon conducting two single transactions of HK$800 (or its equivalent) or above each during the promotional period:
Hong Kong International Airport
Shanghai Pudong International Airport
Shanghai Hongqiao International Airport
Beijing Capital International Airport
Guangzhou Baiyun International Airport
Singapore Changi Airport
Kuala Lumpur International Airport
Bangkok Suvarnabhumi Airport
Taiwan Taoyuan International Airport
Budapest Ferenc Liszt International Airport
Manchester Airport
Lisbon Humberto Delgado Airport
Václav Havel Airport Prague
Abu Dhabi International Airport
Dubai International Airport
O.R. Tambo International Airport
For reservation or details, please contact Aspire Lifestyles on 3122 8333 or email your booking form (PDF) to pmc@aspirelifestyles.com.
Please read the following remarks.

The offer is only applicable to HSBC Premier MasterCard® Credit Card Cardholders.
The offer is available on a first-come-first-served basis with a quota of 1000 per month. Reservation is required.
Cardholders should make reservation through Aspire Lifestyles within 30 days from the date of transaction(s). Transaction receipt(s) must be presented.
TravelSurance
Promotion Period: From now until 28 February 2019
15% off Single Trip TravelSurance
35% off first year's premium for Multi Trip TravelSurance
Up to an extra 5 times RewardCash respective spending on premium
Please read the following remarks.

To apply, please visit the bank's insurance website or call insurance hotline 2233 3131
For details and terms and conditions for Single Trip TravelSurance, Multi Trip TravelSurance and up to extra 5 times RewardCash offer, please visit the Bank's insurance website.
Cardholders who settle the premium by HSBC Credit Card and entitled to up to 5 times RewardCash during 1 January 2019 to 28 February 2019. Please refer to the relevant terms and conditions.
Please read the following remarks.
*Based on the perception rating results from the Kantar TNS Pulse Study conducted in the first half of 2018 that covered a population representative sample of Hong Kong credit card holders.
1. Please refer to offer details of respective participating merchants as different participating merchants may have different promotional periods.
2. All offers are not applicable to HSBC UnionPay Dual Currency Diamond Credit Card and HSBC UnionPay Dual Currency Credit Card.
Call 2748 8033
Visit www.hsbc.com.hk/creditcard
To borrow or not to borrow? Borrow only if you can repay!
Reference number: Y9-U8-CAMH0302