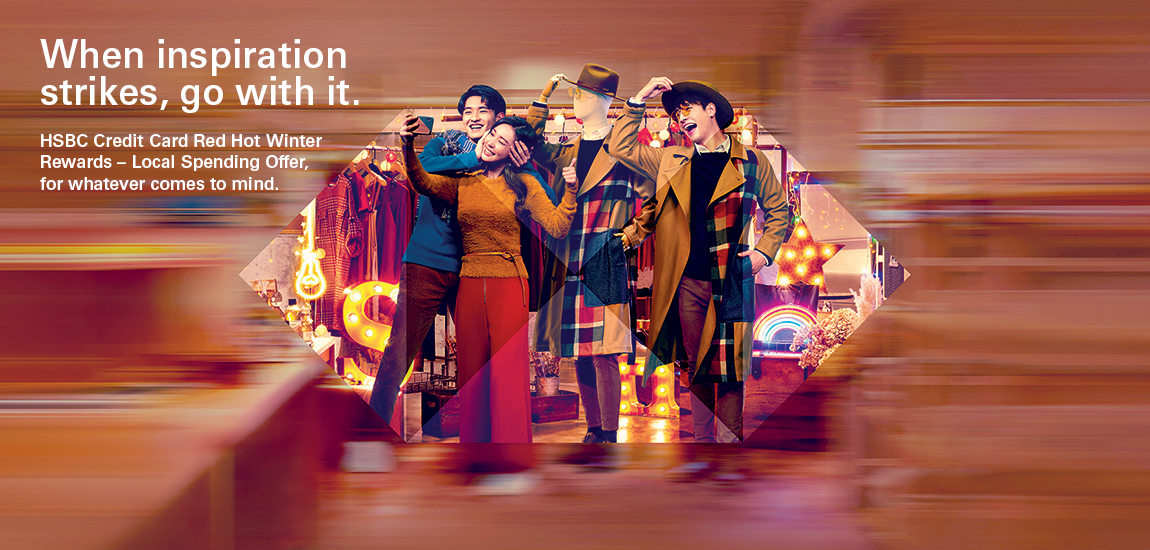 You can enjoy the following offers with your card spending on "Red Hot Winter Rewards – Local Spending Offer" from 1 December 2018 to 17 February 2019:
Up to an extra 5% RewardCash rebate upon accumulating eligible transactions of HK$8,000 or above; of which dining transactions conducted with Visa Cards can earn another extra 5%, i.e. a total of up to an extra 10% RewardCash rebate.
Extra $400 RewardCash rebate upon accumulating eligible transactions of HK$38,000 or above.
Or call 8228 3233 8228 3233 or register via the HSBC Reward+ app!
What's more, you can enter the HSBC Reward+ Mini Game with single transactions of HK$500 or above for a chance to win up to $800 RewardCash. The earned RewardCash can be used to offset any other transactions, just the way you like! Click here for details.
HSBC Credit Card, the best credit card in town*, brings you red hot offers, for whatever comes to mind. The one that has it all.

Please read the following remarks.
* According to RFi Group Hong Kong Priority & Retail Banking Council Study 2017 H1.
Apple is a trademark of Apple Inc., registered in the U.S. and other countries. App Store is a service mark of Apple Inc.
Google Play™ is a trademark of Google LLC.
Click here for terms and conditions
Call 2748 8033
Visit www.hsbc.com.hk/creditcard
To borrow or not to borrow? Borrow only if you can repay!
Reference number: Y8-U8-CAMH0106