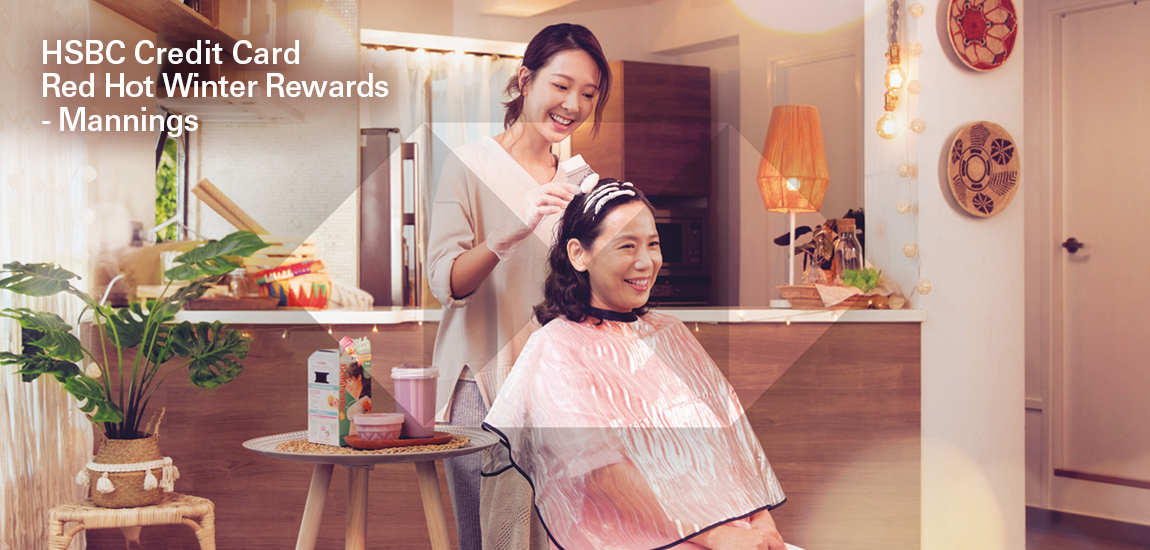 You can receive up to an extra 12% RewardCash rebate upon accumulated eligible transactions of HK$1,000 or above at Mannings and GNC in Hong Kong with your card from 1 January to 29 February 2020:
Monday to Sunday: extra 5% RewardCash rebate
Friday to Sunday: another extra 3%, for a total of extra 8% RewardCash rebate
Pay via mobile payment to receive another extra 4% RewardCash rebate
Or call 8228 6608 8228 6608 or via the HSBC Reward+ app to register!
Click here for example
Close
Example: If you make an eligible transaction of HK$1,000 at Mannings in Hong Kong via mobile payment on Fridays, you will receive a total of $124 RewardCash.  
Basic RewardCash
(HK$250=$1 RewardCash)
5% RewardCash offer
(Monday to Sunday)
3% RewardCash offer
(Friday to Sunday)
4% RewardCash offer (mobile payment)
HK$1,000 ÷ 250
= $4 RewardCash
HK$1,000 x 5%
= Extra $50 RewardCash
HK$1,000 x 3%
= Extra $30 RewardCash
HK$1,000 x 4%
= Extra $40 RewardCash
A total of $4 + $50 + $30 + $40 = $124 RewardCash


HSBC Credit Card, the best credit card in town*, brings you various offers to help you connect with the ones you love.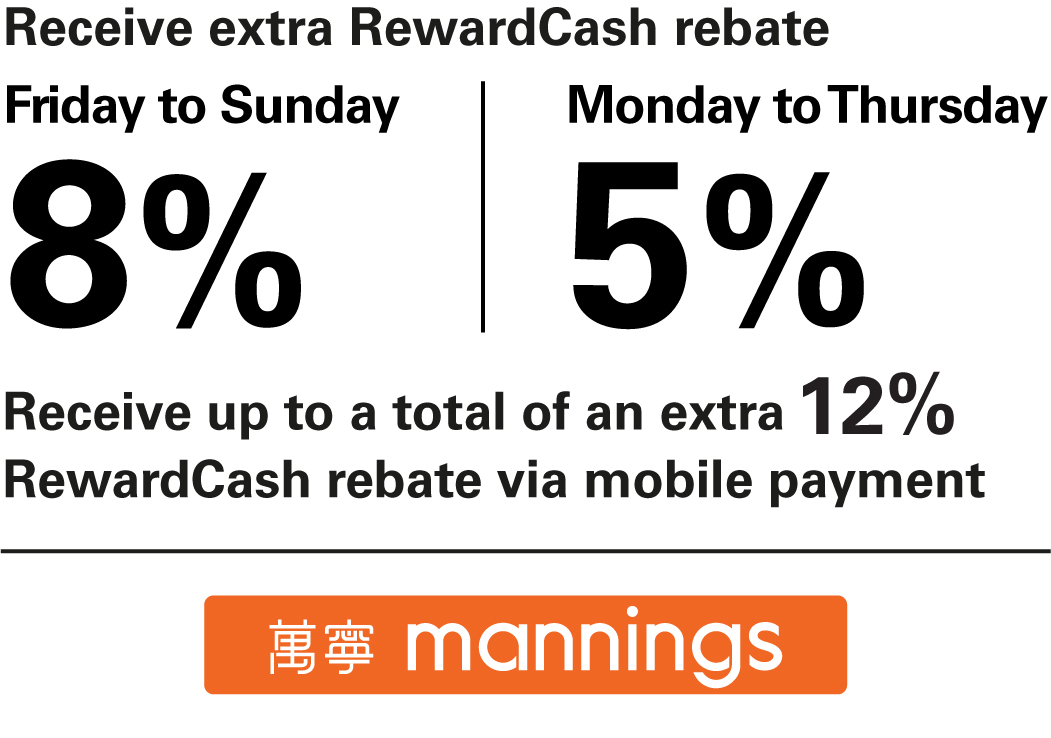 Please read the following remarks.
* Based on the perception rating results from the Kantar TNS Pulse Study conducted in the first half of 2018 that covered a population representative sample of Hong Kong credit card holders.
1. Eligible transactions are purchases made in Hong Kong dollars with an eligible credit card with a minimum net spending amount of HK$500 each at any outlets of Mannings, Mannings Plus, Mannings Baby and GNC Stores in Hong Kong during the promotional period. These are not eligible transactions: purchase of infant milk powder (stage 1), charges on plastic shopping bags, transactions (including top-up transactions) made via e-wallets and all unposted/cancelled/refunded transactions.
2. Mobile payment includes Apple Pay, Google Pay™ and Samsung Pay.
3. The offers are subject to the maximum extra RewardCash amounts. For details, please refer to terms and conditions.
Apple and Apple Pay are trademarks of Apple Inc., registered in the U.S. and other countries. App Store is a service mark of Apple Inc.
Google Pay and Google Play™ are trademarks of Google LLC.
Samsung Pay is a registered trademark of Samsung Electronics Co., Ltd.
Click here for terms and conditions
Call 2748 8033
Visit www.hsbc.com.hk/creditcard
To borrow or not to borrow? Borrow only if you can repay!
Reference number: Y20-U8-CAMH0502