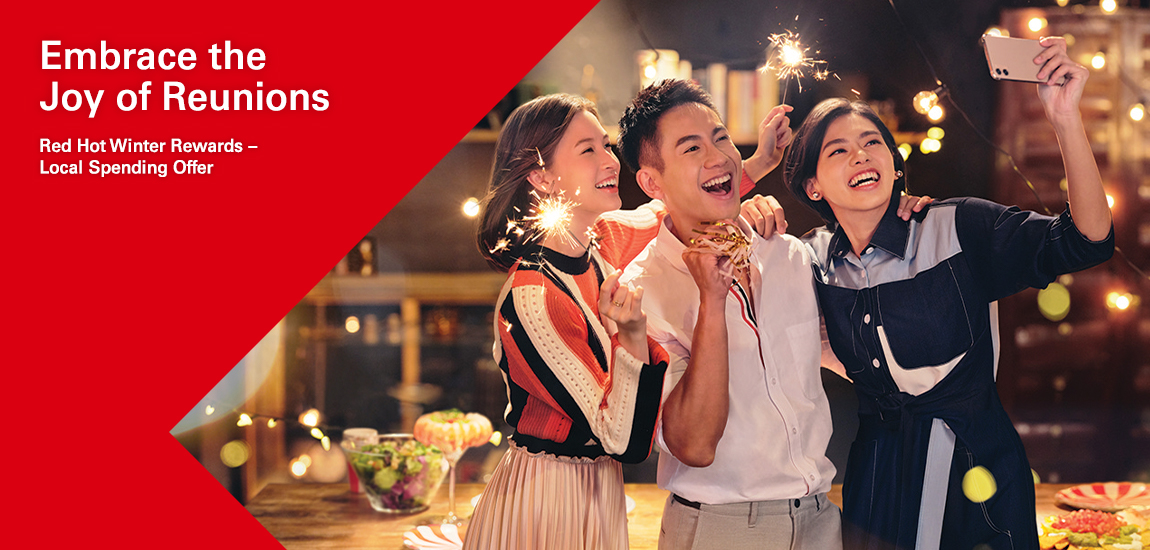 Treasure every moment of happiness and continue the stories of jubilation of the winter season and beyond.
From 1 December 2021 to 11 February 2022, spend with your HSBC credit card to enjoy "Red Hot Winter Rewards – Local Spending Offer" and receive up to an extra $1,200 RewardCash.
Offer 1: Receive an extra 5% RewardCash rebate when you accumulate eligible transactions of HK$8,000 or above. The offer extends up to $600 RewardCash (local transactions of HK$500 or above are counted as eligible transactions).


Offer 2: Receive an extra $400 RewardCash when you accumulate HK$35,000 eligible transactions or more. Earn an extra $200 RewardCash if the eligible transactions are made with a designated HSBC Visa Credit Card.

HSBC credit card, the best credit card in town*. The one that has it all.

Please read the following remarks.
* The above statements are based on the perception rating results from the Pulse Study conducted by Kantar UK Ltd between July 2020 to December 2020 that covered a population representative sample of 949 credit card holders in Hong Kong.
You can register this promotion via the HSBC Reward+ app or click hereclick here to register.
Eligible transactions are purchases made in Hong Kong dollars with an eligible credit card with a minimum net spending amount of HK$500 each at local merchants in Hong Kong during the promotional period. Eligible transactions do not include: all transactions made at any shops of Broadway Photo Supply Ltd in Hong Kong and Broadway's online shop (

www.broadwaylifestyle.com

), Mannings, Mannings Plus and Mannings Baby, any outlets of Mannings Online Store (

www.mannings.com.hk

) and GNC Stores in Hong Kong, and transactions made at SOGO Hong Kong Co., Ltd in Hong Kong or its online shop (

estore.sogo.com.hk

) between 1 December 2021 and 4 January 2022.
HSBC EveryMile Credit Card and HSBC Red Credit Card are not applicable to this promotion.

Apple is a trademark of Apple Inc., registered in the U.S. and other countries. App Store is a service mark of Apple Inc.
Google Play™ is a trademark of Google LLC.
Click here for terms and conditions
Call 2748 8033
Visit www.hsbc.com.hk/creditcard
To borrow or not to borrow? Borrow only if you can repay!
Reference number : Y21-U8-CAMH0103