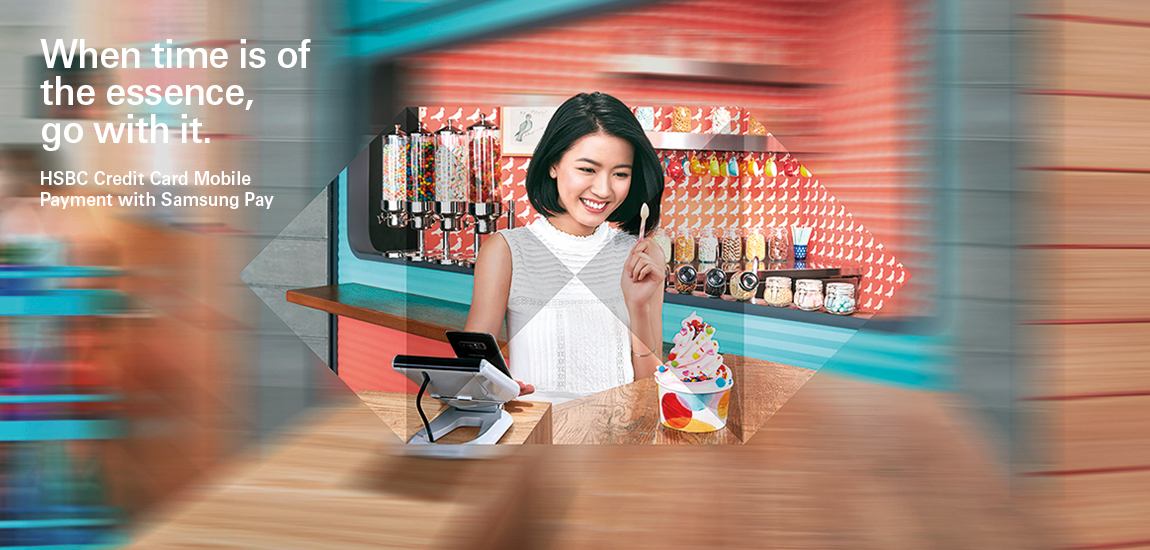 Samsung Pay is a secure and easy-to-use mobile payment service which can be used on selected Samsung devices* to make purchases at a wide range of merchants. Add your HSBC credit card to your mobile phone now and use Samsung Pay to enjoy all the benefits of your credit card!
Set up is simple
To add your credit card to Samsung Pay, just complete the simple steps for your compatible mobile phone as below:
1. Tap "Add credit cards" in Samsung Pay.

2. Scan the HSBC credit card.

3. Or enter the credit card information manually. If yours has been scanned, just supplement the information as required.

4. Review the Terms of Service, then tap AGREE TO ALL.

5. Select a verification method.

6. Enter a verification code.

7. Sign your card in the box.

8. Card added.
*Samsung Pay works with Galaxy S9+, Galaxy S9, Galaxy S8+, Galaxy S8, Galaxy S7 edge, Galaxy S7, Galaxy S6 edge+, Galaxy Note8, Galaxy Note5, Galaxy A8+, Galaxy C9 Pro, Galaxy C7 Pro, Galaxy C5 Pro, Gear S3 and Gear Sport. Devices supporting Samsung Pay may update from time to time. Please visit Samsung Pay website for more details.
Galaxy C Pro Series and Gear Sport only has NFC payment capability to pay at supported contactless payment terminals.
Samsung, Samsung Pay, Knox, Galaxy S and Galaxy Note are all trademarks or registered trademarks of Samsung Electronics Co., Ltd.
To borrow or not to borrow? Borrow only if you can repay!