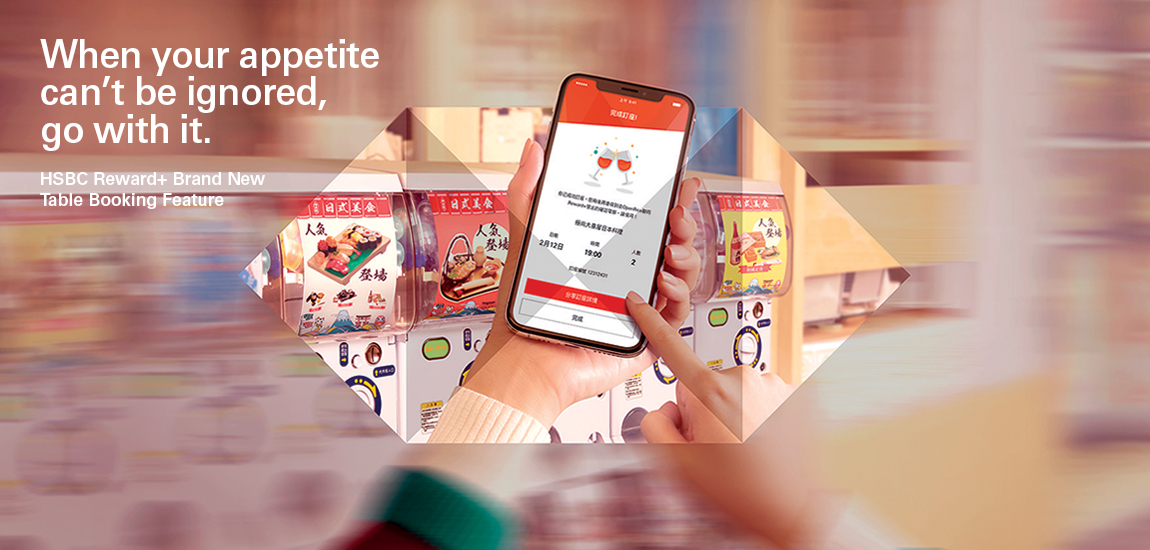 Table booking service is now available on HSBC Reward+. It allows you to make a table reservation anytime, anywhere.
You can earn $3 RewardCash by simply connecting your OpenRice account with the HSBC Reward+ app and making a table booking. You will receive the $3 RewardCash within 2 months after your attendance. No registration is required.
The RewardCash earned can be used to offset any other transaction immediately via the "Pay with RC" function in the HSBC Reward+ app. Use your rewards, just the way you like.
Explore more dining offers
Know more about HSBC Reward+ Key function
If you still have not downloaded the HSBC Reward+ app, please download it now!
HSBC Credit Card, the best credit card in town*. The one that has it all.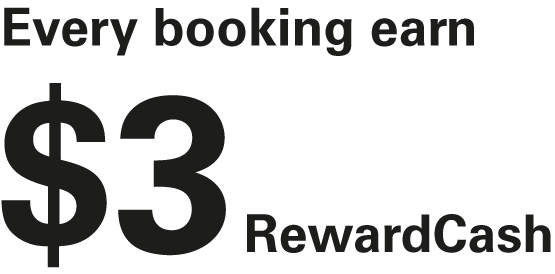 HSBC Reward+ App's Table Booking Service Guide

1. Find bookable restaurants
On 'Discover' page, go to 'Dining' tab and apply the filter.

Select 'Table booking' under the Dining filter. You will then see a list of bookable restaurants.

Once you've selected a restaurant, tap 'Book now' if you wish to proceed to booking.
2. First-time registration for HSBC Reward+ Table Booking Service
Connect your OpenRice account with Reward+. You only need to connect once.

If you've logged in to the OpenRice mobile app, your OpenRice account name will be displayed. Verify and click 'Continue'.

To use another OpenRice account, click 'Continue with other OpenRice account'.

If you haven't logged in your OpenRice account, click 'Login'. If you don't have an OpenRice account, click 'Sign up' to register.
Once connected, you don't have to log on to Reward+ to book a table in the future!

To check or remove your connected OpenRice account, navigate to 'Settings'.
3. Make a booking
Once you've selected a restaurant, tap 'Book now'.

Select an outlet (if applicable).

Input your desired booking date, time and number of seats.
Upon completion, you will receive a confirmation via your e-mail address registered with OpenRice.

You may share the booking details with friends.

You can find all upcoming and previous bookings under the 'Bookings' tab on the 'My R+' page.

You can also share, edit or cancel a booking from here.
Please read the following remarks.
*Based on the perception rating results from the Kantar TNS Pulse Study conducted in the first half of 2018 that covered a population representative sample of Hong Kong credit card holders.
1. Reward+ Table Booking service is not applicable for Apple devices running operating systems older than iOS 10.0 and Android devices running operating systems older than Android 5.0.
Apple is a trademark of Apple Inc., registered in the U.S. and other countries.
App Store is a service mark of Apple Inc.
Google Play™ is a trademark of Google LLC.
Click here for terms and conditions
Call 2748 8033
Visit www.hsbc.com.hk/creditcard
To borrow or not to borrow? Borrow only if you can repay!

Reference number:Y9-U8-CAMH0701(Apr)