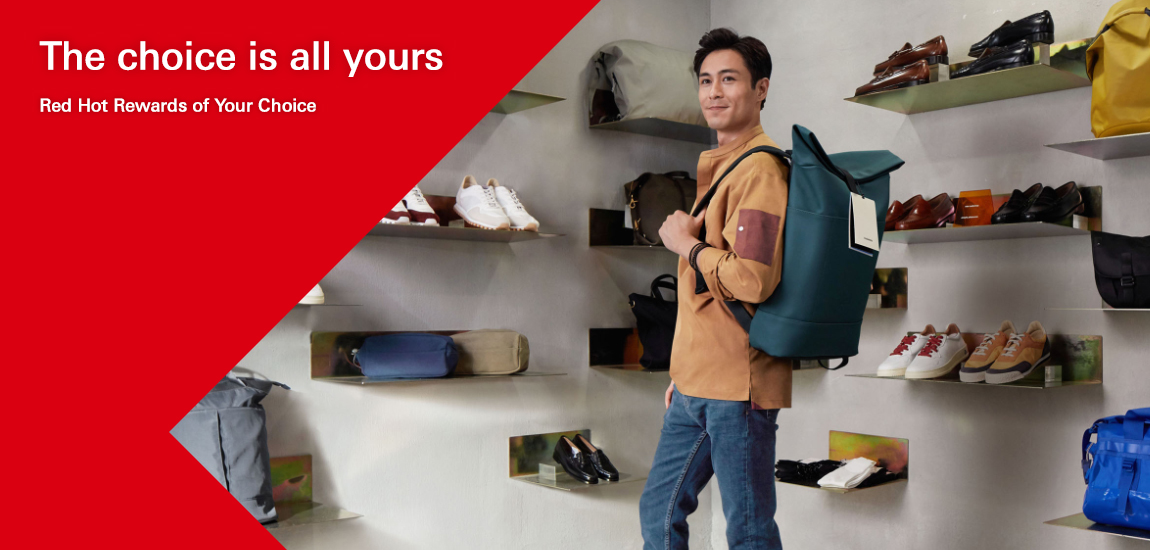 With the year-round "Red Hot Rewards of Your Choice" programme, you can allocate your extra RewardCash among your preferred spending categories and earn up to 2.4% RewardCash rebate! With HSBC credit cards, enjoy more gratifying rewards in life, and discover how RewardCash couldn't be easier to earn and use. Enjoy rewarding moments and open up new possibilities in life!
From 1 January 2022 to 31 December 2022, the 1-year "Red Hot Rewards of Your Choice" programme lets you earn an extra 5X RewardCash at a wide range of merchants and allocate among five spending categories:
Dining
Health & Leisure
Home
Lifestyle
Overseas & Mainland China Spending
Registration for the current "Red Hot Rewards of Your Choice" programme is now closed. Please stay tuned for details on the 2023 programme.


HSBC Credit Card, the best credit card in town*. The one that has it all.
Please read the following remarks.
* The above statements are based on the perception rating results from the Pulse Study conducted by Kantar UK Ltd between July 2020 to December 2020 that covered a population representative sample of 949 credit card holders in Hong Kong.
Promotional period is from 1 January 2022 to 31 December 2022. You are entitled to receive extra RewardCash for your first HK$100,000 eligible spending at designated spending categories and merchants during the effective period indicated in the "Red Hot Rewards of Your Choice" programme details shown on the monthly credit card statement. To participate in this promotion, you are required to register on or before 31 October 2022.
You earn basic $1 RewardCash for every HK$250 spent. Up to 2.4% RewardCash rebate is equivalent up to 6 times RewardCash which is inclusive of 5 times extra RewardCash under the "Red Hot Rewards of Your Choice" programme and the basic 1 time RewardCash earned under the RewardCash Programme.
You are required to register once with any eligible HSBC personal credit card. The extra RewardCash multiplier for selected spending categories will be automatically applied to all eligible primary and additional credit cards under your name. If your registration is not successful, a rejection notification will be sent to your email address on the Bank's record, or your correspondence address in case there is no valid record of email address. Otherwise you will start earning extra RewardCash within 3 working days after completing the registration, and the details will be shown on your next and any subsequent monthly credit card statement. No change or cancellation is permitted after registration.
Click here for terms and conditions
Call 2748 8033
Visit www.hsbc.com.hk/rewards
To borrow or not to borrow? Borrow only if you can repay!
Reference Number: Y22-U1-CAMH0201