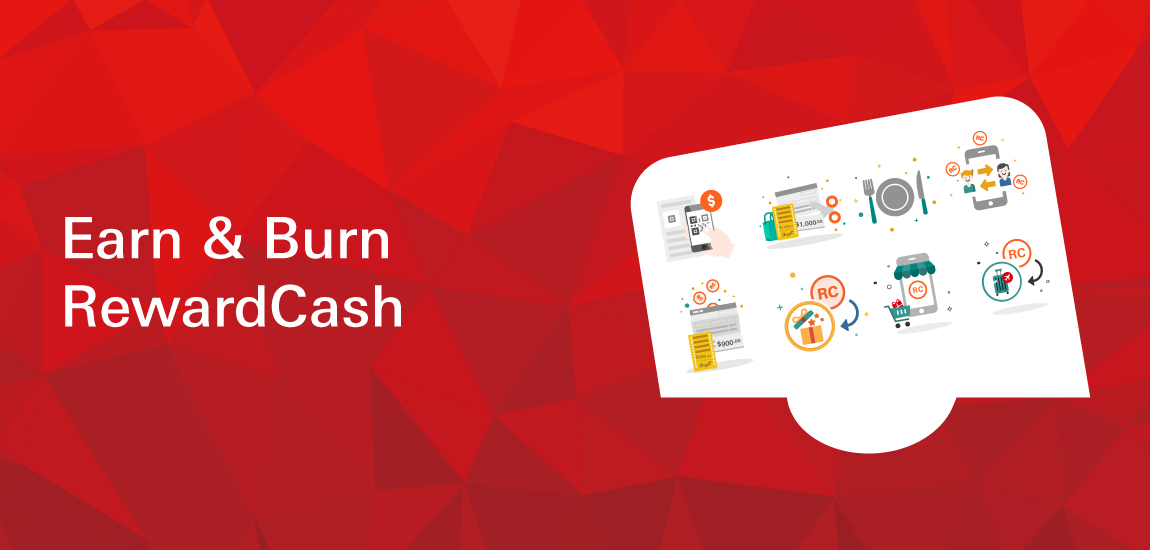 Discover offers everywhere and anywhere. RewardCash couldn't be easier to earn! Earn up to 2.4% RewardCash rebate with Red Hot Rewards of Your Choice; extra 1.2% RewardCash rebate with HSBC Visa Signature Card; 4%/2%/1% RewardCash rebate with HSBC Red Card and a variety of Red Hot Offers throughout the year.
It's not just easy to earn, there is a wide range of options for you to redeem your RewardCash in a way that suits your needs. Use your RewardCash just the way you like.
1. Pay with RC

 
Pay any merchant transaction or credit card bill with RewardCash.
$1 RC = HK$ 1
Details

2 . Redeem Miles

 
Convert RewardCash into air miles.
Details

3. RewardCash e-Shop

 
Enjoy great deals on gifts and vouchers on the RewardCash e-Shop with a loyalty discount.
Details
4. Share RC

 
Transfer RewardCash to friends.
Details

5. Convert into merchant partner loyalty points

 
Convert RewardCash to merchant partner's loyalty points, including K Dollar, MTR Points, MoneyBack Points and The Point bonus points.
Details

6. Instant RewardCash Redemption at Merchants

 
Use RewardCash at participating merchants across town to instantly offset purchases.
$1 RC = HK$ 1
 
7. RewardCash Certificate Scheme

 
Automatically convert RewardCash in multiples of $50 into RewardCash Certificates after registration. Exchange Certificate(s) for cash coupons at partner merchants.
 

8. Fee Waiver

 
Waive the credit card annual fee using RewardCash.
 

HSBC Credit Card, the best credit card in town*. The one that has it all.
Learn more about Red Hot Rewards of Your Choice
* The above statements are based on the perception rating results from the Kantar Pulse Study conducted between October 2019 to December 2019 that covered a population representative sample of 440 credit card holders in Hong Kong.
Apple is a trademark of Apple Inc., registered in the U.S. and other countries. App Store is a service mark of Apple Inc.
Google Play™ is a trademark of Google LLC. 
Call 2748 8033
Visit www.hsbc.com.hk/creditcard
To borrow or not to borrow? Borrow only if you can repay!
Reference number: Y20-U8-CAMH0702_RC