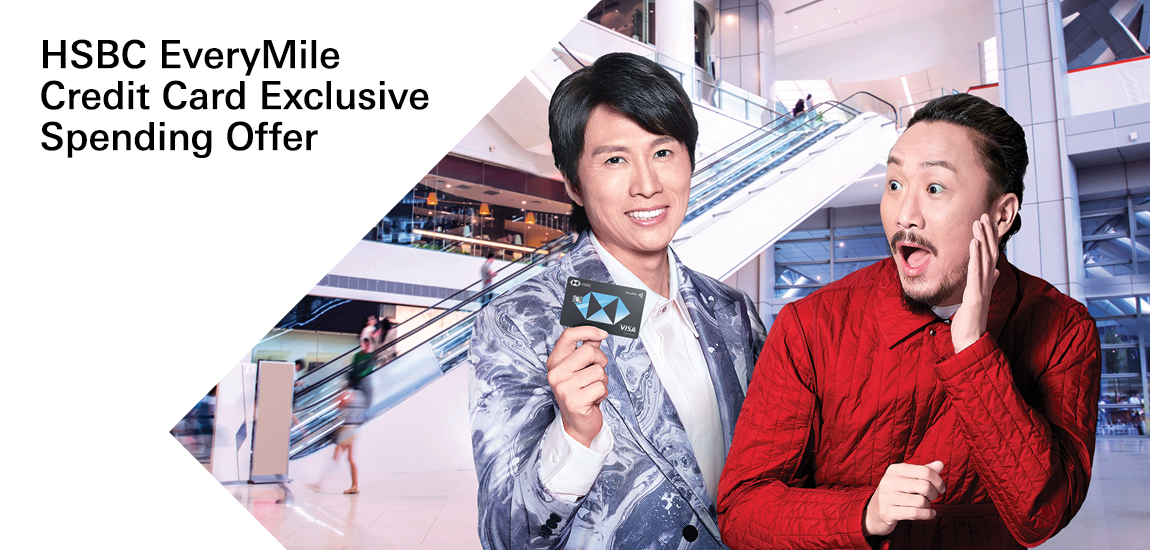 Let every journey reward you for the next. From 1 August to 31 December 2022, accumulate eligible spending amount with your HSBC EveryMile Credit Card on local, overseas or online transactions for designated amounts to earn up to an extra $2,100 RewardCash (or 42,000 miles). You can then enjoy a preferential rate on your mile conversion for as low as every HK$1.6 spent = 1 mile.
Total Net Spending Amount
Extra RewardCash Earned
Earn miles with conversion rate as low as
HK$25,000 to less than HK$50,000
$350
(Equivalent to 7,000 Miles)
HK$2 = 1 Mile

$25,000/ (5,000 Basic Miles + 7,000 Extra Miles)

HK$50,000 to less than HK$75,000
$800
(Equivalent to 16,000 Miles)
HK$1.9 = 1 Mile

$50,000/ (10,000 Basic Miles + 16,000 Extra Miles)

HK$75,000 to less than HK$100,000
$1,400
(Equivalent to 28,000 Miles)
HK$1.7 = 1 Mile

$75,000/ (15,000 Basic Miles + 28,000 Extra Miles)

HK$100,000 or above
$2,100
(Equivalent to 42,000 Miles)
HK$1.6 = 1 Mile

$100,000/ (20,000 Basic Miles + 42,000 Extra Miles)

Register via HSBC Reward+ app now.
Don't have an HSBC EveryMile Credit Card yet? Click here to apply now to receive a welcome offer of up to $800 RewardCash (or 16,000 miles) and earn an extra $100 RewardCash (or 2,000 miles) upon any mobile transaction. The welcome and spending offers can add up to a total of an extra $3,000 RewardCash (or 60,000 miles).


HSBC credit card, the best credit card in town*. The one that has it all.
Please read the following remarks.
* The above statements are based on the perception rating results from the Kantar Pulse Study conducted by Kantar UK Ltd between July 2020 to December 2020 that covered a population representative sample of 949 credit card holders in Hong Kong.
You can register for HSBC EveryMile Credit Card Exclusive Spending Offer via the HSBC Reward+ app or click here to register.

Apple is a trademark of Apple Inc., registered in the U.S. and other countries. App Store is a service mark of Apple Inc.
Google Play™ is a trademark of Google LLC.
Terms and Conditions for HSBC EveryMile Credit Card Exclusive Spending Offer
Call 2748 8033
Visit www.hsbc.com.hk/creditcard
To borrow or not to borrow? Borrow only if you can repay!

Reference number: Y22-U8-CAMH0607